During a recent coach education course that I attended as an observer, one of the participants asked the clinician what type of mats would be best for Judo.  The clinician replied that his own preference was for getting the hardest mats possible.  The reason?  To ensure good ukemi!  That response nearly knocked me off my chair.  Here was yet another piece of information that in my mind was clearly a great disservice to all the coaches present, and ultimately to Judo itself.  Let's examine why this statement was not in our best interest as we try to hang on to a diminishing segment of the martial arts market.
When it comes to war plans, it's said that the enemy also has a vote in how the plans will play out.  In Judo, when it comes to ukemi, uke isn't the only person who controls the quality of the fall: tori also has a vote in how well uke will fall.  Sometimes, good ukemi is not feasible due to tori's actions, i.e. perhaps nothing more than using a throw that uke is not familiar with.  More likely, good ukemi is difficult because tori's throw was not perfect.  Hard mats increase the potential that bad Judo will cause injuries.  Hard mats don't guarantee good ukemi.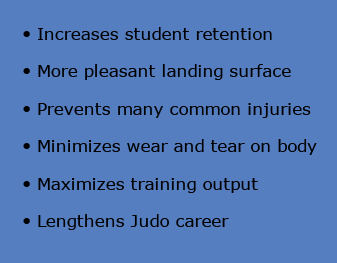 Judo is hard on the body.  Do we really need to make it harder by using the hardest mats?  If you're like me, you've run into dozens of BJJ practitioners who have said they'd like to do Judo, but they don't like taking falls… especially falls on crappy mats.  Would it make a difference in attracting the BJJ crowd, and others who have been told that Judo falls hurt, if your club had a more resilient landing surface instead of those hard mats?  I think you know the answer to that.
From a training viewpoint, a more resilient landing surface can minimize body wear and tear, thus increasing the length of stay or career in Judo.  It also allows players to train harder and more efficiently.  Since completion of a throw is a vital part of skill acquisition, you can complete more throws when training on a resilient surface.  No more need to pretend nine times before you launch you training partner on the tenth repetition.  More Judo throws can be practiced in their entirety without the fear of injury, or excessive wear and tear.  High amplitude throws like Te guruma and Ura nage can be repeated dozens of times without losing half your membership.
This leads us to the biggest reason for staying away from hard mats: student retention.  There are many reasons for losing students.  We have little or no control over many of those reasons, but we can control complaints about injuries, hurting, and hard mats.  A better landing surface is the answer.  And the best landing surface for Judo is the spring-loaded mat.  When you couple that with crash pads, you will have taken the sting out of Judo falls, minimized injuries, increased training efficiency, and made a whole lot of your students much happier about doing Judo in your club.
For those of you wanting more information on how to construct a spring-loaded mat, check out this article.