I'm dumbfounded by those who insist that 6-year olds should have to play our sport by the same rules as Olympians.  I keep hearing stupid things from some truly smart people, like this statement: "There is no point arguing rules that are already in place and being run at all levels in all countries."  Not only is it un-American to suggest that it's pointless to argue against any form of world government like the IJF, more importantly, from a development viewpoint, it makes no sense to treat kids like adults.  Yet the author of the above quote, a member of one of our national coaching committees, ignores "age appropriateness" and supports IJF rules lock, stock and barrel for everyone.  It's safe to call this person an IJF elitist.
In my last post, I talked about Polish fencing.  Today, I'd like to bring up tee-ball, a watered-down form of Little League baseball for 5-6 year old kids, as an example of how unlike Judo some sports tailor their rules, facilities and equipment for age-appropriateness.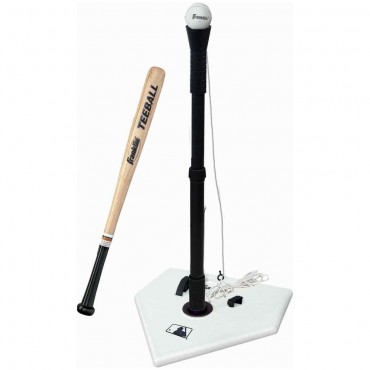 Since most young kids can't actually play the real game of baseball- they lack the batting, catching, throwing and hitting skills at that age- the game is modified to begin the long process of developing sound baseball skills.  For starters, there are no pitchers throwing the ball at the batters.  The ball is placed on a stationary tee making it easier for kids to hit the ball.  Nine players get to hit the ball in each inning regardless of the outcome of the hit.  In the real game, sometimes only three players may get a chance to bat.  There are also no outs, strikes, balls or errors in tee-ball.  And scores are not officially kept.
The field is modified as well.  Bases are only 50 ft apart.  They are 90 feet apart at the pro level.  Bats are also age-appropriately sized.
Coaches are actively involved on the field often shouting encouragement, telling a player to run to the next base, or even physically moving a player into the correct position on the field.
The next step in rule modification occurs at the 7-8 year old level.  A pitching machine replaces the tee, and the game is no longer considered tee-ball.  Now the kids are expected to be able to hit a ball that is moving towards them.  Obviously, hitting a moving object is a more difficult task, as is the ability of 7-8 year olds to pitch a ball accurately.  Thus the use of a machine.
Eventually the machine disappears. Kids are now required to replace the machine and become pitchers.  Rules that affect the number of pitches (throws) and the type of throws a pitcher may make come into play to safeguard young arms.
Over several years, the number of innings in each game increases, distances between bases increase, as does the distance between the throwing mound and home plate, and home run fences get moved back.  The size of bats is regulated allowing for a bigger bat barrel at a younger age to allow for more hits, and a smaller bat barrel as kids get older and more skillful.
In summary, Little League baseball rules are instituted to make the acquisition of baseball skills easier.  Can the same be said of Judo rules?  Of course not.  It's a one-size-fits-all mentality.  One of the main reasons voiced by our clueless national leaders is that eventually every player will have to abide by IJF rules so we should just get used to them from the get-go.  So much for pedagogy-based thinking.
What could we do with Judo rules to facilitate skill acquisition?  What's the Judo counterpart to nine batters per inning, larger bat barrels and not calling errors in a game?  If you've been following my posts, you already know what I think we need to do.  But what do YOU think we should do?