Be Strong, Be Gentle, Be Beautiful is the title of Yuriko Gamo Romer's still-in-progress documentary film chronicling the life of Keiko Fukuda. Ms. Fukuda, the last surviving judoka to have studied directly under Jigoro Kano, was recently promoted to 10th Dan by USA Judo.  She remains the highest ranking female judoka in the world, and becomes the first female 10th dan.
Fukuda started Judo in 1935 at the personal invitation of Kano.  Her grandfather, Hachinosuke Fukuda, had taught Kano tenjin shinyo ryu jujitsu.  Her book Born for the Mat chronicles the development of Joshi Judo (women's Judo) as well as her own career. Fukuda has dedicated her entire adult life to Judo and its dissemination throughout the world.  She is 98 years old and still teaches Judo in California.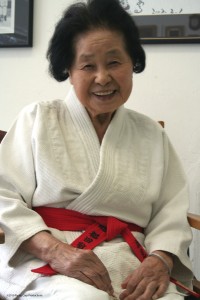 I met Fukuda sensei several times in the 1970s.  She used to come to San Diego often to give clinics and test students for promotions.  As a matter of fact, I was uke for a female teammate of mine when she demonstrated nage no kata for her nidan test.  Ms. Fukuda complimented my on my "nice ukemi!"
A coaching colleague of mine told me that he had gained much respect for Ms. Fukuda when she managed to climb onto his back while he was standing and choke him out.  At the time, Fukuda was 4'11", 100 lb; my colleague, 6'1", 200lb+.
I can't wait for the completion of Be Strong, Be Gentle, Be Beautiful.  Besides addressing the history of Judo and sexism of the Kodokan, it's an inspirational story of the lifelong dedication to a cause, and its sacrifices, by one small, powerful woman.  Keiko Fukuda is who our daughters need to embrace.  Not Lady Gaga, not Britney Spears, not Lindsey Lohan, not Miley Cyrus…
Fundraising efforts are underway to help finish this project for 2012.  For more information, go to Ms. Romer's Flying Carp Productions site.  There are several trailers which will help wet your appetite for this worthwhile project.  I urge you to support it now.  The director would like to complete Be Strong, Be Gentle, Be Beautiful while Ms. Fukuda is still alive.  Sadly, at 98, time is running out.
P.S. While I bash USA Judo frequently, I'm more than willing to congratulate it on doing the right thing.  So, bravo to USA Judo for promoting Ms. Fukuda to 10th dan.