"Man's mind, once stretched by a new idea, never regains its original dimensions." Oliver Wendell Holmes
The problem with stretching man's mind, especially in a highly traditional sport like Judo, is that it's fraught with opposition. Recently, I had the pleasure of conducting a USJA Coach Education Course for twenty-two coaches from Southern California. Several had shown up because they had heard that I was controversial! Much to their credit, they came to see and hear for themselves, rather than rely on the words of people who have never had an intelligent conversation with me.
John Locke was correct when he said, "New opinions are always suspected, and usually opposed without any other reason, but because they are not already common." While I am considered controversial in Judo, my courses are based on the latest research, and I would be considered mainstream in other fields.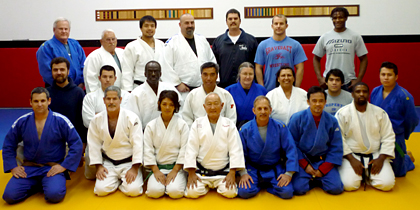 Course attendees were warned ahead of time to come with an open mind. During the course, I ask coaches to question, be skeptical, think outside the box, step outside their comfort zone, expand the definition of words and concepts, and come to conclusions based on intellectual reasoning, rather than the preconceived notions and traditional baggage we come with.
As I have mentioned in previous writings, the focus on coach education should be on pedagogy, the art of teaching Judo. My courses thus start with understanding how skills are developed- there is an equation for that- followed by a dozen principles of learning. These used to be common fare in the USJA coaching courses but they have dropped out in favor of things that are not readily useful to most of our coaches. I have no idea how you can teach Judo effectively, or any sport for that matter, without knowing the elements of skill acquisition and the principles of learning. Once you do have this information, you're on the way to becoming a better coach because you'll be equipped to recognize and eliminate irrelevant training
Next, we tackle different methods of training to combat the substandard uchi komi-randori model. Coaches are introduced to backward and forward shaping, bridge and open project method, blocked-varied-random practice, whole-part method, and technique- situation- and games-based drill training. In addition, coaches are shown how to develop warm-up drills to make this class period more fun and relevant.
A significant part of every course I run is designed to make coaches understand that to become the best coach possible you must read. I provide a list of recommended readings, and throughout the course mention key points from some of those works. I reinforce the importance of reading by pointing out that most branches of our military have professional reading programs, and that most great sports coaches and industrial leaders are voracious readers.
Typically, few of the course attendees have ever read any of the books that I recommend. Let's face it, most Americans don't read, and coaches are no exception. One of the attendees, who is a big reader, told me that she had read several of the works I recommended, but had not thought to apply their lessons to Judo! In light of that comment, I understand better why people think I'm crazy to recommend books on military leadership. Apparently, it's hard to think outside the box and to recognize the parallels between Judo and other fields.
American coaches continue to be ignorant of Geof Gleeson, the father of modern Judo coaching and a prolific author. Not only have our coaches not read his books, far too many have not heard of him at all. I find this deplorable. His main books, Judo for the West, Anatomy of Judo, and Judo Inside Out should be mandatory reading. You don't have to agree with everything Gleeson proposes, but if you do read his books, you'll get a completely different approach to Judo. And this should help you become skeptical of the training model we adopted lock, stock and barrel from the Japanese.
Definitions and labels continue to be obstacles in understanding one another and accepting new ideas. One of the questions I pose coaches is, "How many of you think that a brand new student should randori during his first lesson?" The brave immediately raise their hands, the fence-straddlers look around and wait to see what everyone else does, and the close-minded sit there shaking their heads muttering to themselves, "No way, Jose, that's crazy!"
Once coaches are reminded of the purpose of randori and are shown how to create "randori-like" drills and situations, then it's not so hard to admit that, yes, beginners can do randori during their first session on the mat. All you have to do is stretch that mind and think outside the box.
Ukemi is another one of those words that seem to be held in captivity by a narrow-minded definition. Few coaches seem to be able or willing to teach throws before a student has spent days and weeks mastering ukemi using the traditional "mat-bashing" method. As with the case of randori, beginners can learn how to throw on day one without ukemi training. It's simply a matter of redefining ukemi.
One of the drills I use to point out our myopic view of training is the following: A is sitting on her butt with legs stretched in front, B kneels to A's side, pushes her backwards and pins her. (See photo below) When coaches are asked what was taught in this simple drill, everyone quickly says that a pin was taught. With some prodding, they recognize two other elements: a throw (a precursor to O soto gari) and a transition (to the previously recognized pin.) Almost all of them miss the fourth element- the ukemi! Why? Because there was no "mat-bashing" thus it wasn't recognized as ukemi training.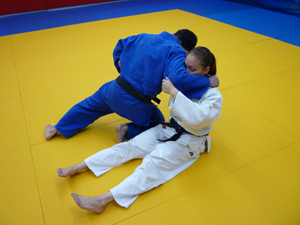 I'm not the only "nut" who thinks there's something wrong with the way we teach ukemi. Here's what Anton Geesink, the 1964 Olympic gold medalist, says in his book Judo: Based on Social Aspects and Biomechanical Principles.
I have often observed that ukemi-waza is being taught as an independent technique…I personally don't pay much attention to the falling techniques. By this I mean to say that ukemi-waza is not an important part of judo. It is, but the training of ukemi-waza needs to be functional. For me it is impossible to train ukemi-waza in a solo way. If I am in charge, the falling is only trained as a logical conclusion off a throw.
Often, the last words in what I perceive to be a futile effort to justify substandard and irrelevant training methods are, "But the Japanese use these methods, and they work for them!" Rather than tell you why they appear to work for the Japanese- this may be one of my next blog entries- I'll leave you with some words of wisdom from British philosopher Bertrand Russell:
The fact that an opinion has been widely held is no evidence whatever that it is not utterly absurd; indeed in view of the silliness of the majority of mankind, a widespread belief is more likely to be foolish than sensible.
While I expect that all coaches who attend my courses will come, see, understand and be enlightened, the reality is that for many no amount of research, proof or education will sway them to change. They show up with blinders, and leave with blinders. Those of us who are vested in coach education keep plodding away nonetheless, one coach at a time. We are inspired by those who rush back to their clubs to try the "new stuff" they learned. We are inspired by the coaches who admit that they can use the concepts they learned in a Judo coaching course for their job or for another sport. And we are inspired by the coaches who months later tell us they have made drastic changes to their programs, and wonder why they hadn't done it sooner.